Queen A$$hole- The Play

Act 1
Scene 1
Existential introduction
Scene 2
Night out, chip shop
Scene 3
I wanna be a rap star and a porn star
Scene 4
Back to the chips again
Scene 5
Falling in love in a concrete hell-hole
Scene 6
Existential conclusion

Act 1
Scene 1
Existential Introduction

Hey babes, can we talk like this, I prefer it.
Hey babes, what you up to today?
Wanna send a dick pic?
It is like a nipple you see and a tongue rolls around it, then it is lost in a collision of pink cyber cells.
It's like your tongue rolling around that greasy chip in your mouth right now.
That stage where you start to have tiny fried egg boobs, not big enough for a bra but are stuck to in a vest anyway.
Not good enough though is it bitch.
Why, because you're a bitch.
Salivate from the tip of your tongue onto your cock.
I realise there is this hot or not so hot big pot of shit soup life.
Then you find yourself lost in front of the neon again.
You got to leave more though.
But not your soul mind, never that, no one wants that.
More like a steaming hot turd.
Anyways, laters babes yea.

Scene 2
Setting: Night out, chip
shop

A hoody
A hoody or no hoody
Gangsta in it
Why you talking to me like that bitch
Kmt fuck you
You dutty skank
You dutty sket
Im gonna shank you init
Shank you in the minge
Beware rudeboi
You're just a posh white girl
And this is race relations init
Relate to this you fucking cunt
My slang is as big as your schlong init
Suck on that you limp dick bitch
She gobbled it down
As if she was deep throating a cock
As if the warmth it gave her belly gave her life
She slobbered a bit on the counter
No matter no one will see
I'm sure we've all communally slobbered on this counter at points
Her eyes less than responsive
She lolled on the counter and farted her eyes rolled
I'm a bit fucked up I guess
Get me some cheesy fucking chips

Scene 3
Setting: I wanna be a rap star and a porn star

Welcome
It's me
The cunt creeper
Easy v
Rapping really lazy
I'm a hood rat
Bitch shut the fuck up
And get on your knees
You call me creepy
Cos I like to tease
With sum sick
Shut ya mumma pussy hole
Lines that is based on grime
Let's have a real good time
Real good time
Bloodclat baby gonna make ya crazy
I'll squirt in your face
There's no mistake
Haha
Let's bounce up and down on each other till we get sick
Haha
Then do a line of k
Do a dirty fucking slow dance
In front of a camera
And look like a dirty fucking porn star whore
Lick dat pussy slow
And wynd
Grind grind up and down on dat
Provocative for the sake of it
So fuck off
Cunts r us
We're raiding it
Fuck sake

Scene 4
Setting: Back to the chips again

Got to the chip shop
Two guys on you
Boys at the chip shop like you
Lick your lolly gal lick your lolly
I rate you
So you can come home too
Salt and vinegar
On those cheesy fucking chips yes
Cheesy fucking chips
He gets chicken
I get a veggie burger
Cheesy fucking chips
The golden chip
I break my tooth
Oh fuck now I need a gold tooth
I'm a hood rat baby
With my new gold tooth watch it shine
Cheesy fucking chips
Cheesy fucking chips
It all comes down to the cheesy fucking chips
And drunk night out
Off my face I decline to another space
Get my tits out and piss everywhere
A total fucking disgrace
But the cheesy chips saved my face
Cheesy chips on my tits and face
Lick that lolly girl cos you're sweet
With your gold teeth
Mans don't rate me
Just don't hate me

Scene 5
Setting: Falling in love in a concrete hell-hole

Concrete playground
Boys in hoodies
Got that sexy skank
Astroturf
Metal bar realities
This boy from my block
Is always the boy from the block
And so will he forever be
And me
The girl from the block
Looking really crazy
With a dutty mouth to match
I got a cr0 face lift init
And a nasty gold tooth
I got an asbo
Boy with an asbo he likes you
First kiss in a cinema
And he puts his hand on my tit
And we dry hump in an underpass
So gay
Don't tempt me
I'll slap you so hard
We go hard or go home
I go hard
My eyes roll in my head
I was just saying something
But the three second thought trail was lost
And now I'm back again
To find myself lost
Mkat init
Dutty raves
Not really dirty anymore
Are they tho
Do you wanna suck my dick tho
I said I wanna shit tho
S.H.E's a slag don't waste your time
She can rack up a big up
Fat massive line
But that's all S.H.E's good for
Even her skillz at sucking dick
Are pretty shit
Fuck that I go get a push up bra instead
A dutty base
That makes your jaw grind already
Grind grind on that
Push up and down
Spitman spit that
Sick line
Sick lines
Rewind re- re rewind
The necessity of a good fuck
Is practical for all
A necessity of a good fuck up
Is questionable
And a necessity of a good getting fucked up
Is a necessity for certain
There's this really nice boy
Who's good to me
But I treat him like shit
Because I have a fucked perception of what normal is

Scene 5
Existential conclusion

When the poetries left our mouths
What's left is the dirt
This is a text I wrote in the format of a play.
The play was performed by my friends in a park in South London where we grew up.
There are no characters/allocated lines, the performance is improvised.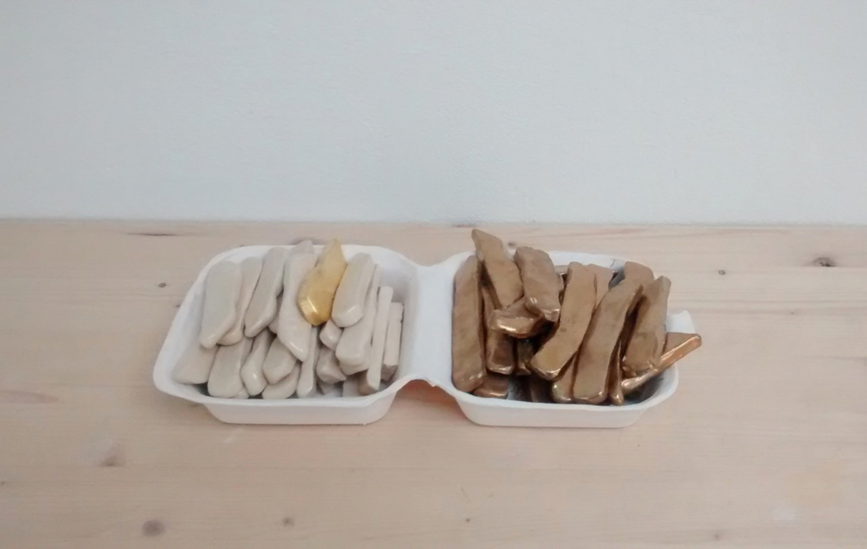 Ceramic chips and takeout box, one chip is gold-leaf, the other are fake gold